A
h, my dear Christmas money. Where oh where have you gone?
Every year my wonderful in-laws give us each some wonderful Christmas cash. I had so many wonderful ideas of how to spend it. After much thought and deliberation I had decided that I would renew my subscription to my favorite sewing magazine ever - Ottobre Design Magazine.
It is an amazing magazine from Finland that is published 6 times a year - 4 children's issues and 2 woman's issues - for a total of about 188 different sewing patterns a year!!!
Which then caused this...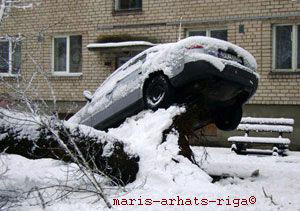 Okay, it actually wasn't quite that bad. But the damage was bad enough that when dear hubby hit the curb he caused over $325 worth of damage to his wheel.
I guess we still need to be thankful that:
No other vehicles were involved
No one got hurt
Ran wasn't with him at the time
It happened very close to home, so he was able to drive home to wait for AAA
And finally... It could have cost a whole lot more if he had cracked the frame!!!
Oh well, I guess my Ottobre subscription will have to wait till next month.